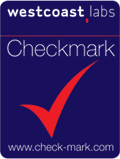 ______________________________________________________________________________________

West Coast Labs (WCL) is one of the world's leading independent test facilities.
Wes Coast Labs is a global leader in research, testing and certification for information security products and services. They have market-leading technology and testing facility in the UK, USA and India.
Their services are being used by the leading global brands to create market advantage and by large business enterprises for obtaining crucial technical insight into product performance
Checkmark is the world's fastest growing certification system for information security products and services. It is a highly regarded accreditation program, recognized globally by vendors, end users and by government agencies as providing End Users with effective confirmation of a product or service's effectiveness in an ever-changing threat landscape.
The Checkmark Certification programs validate the functionality and performance of both content and network security technologies in a range of threat scenarios and attack vectors from standard baseline benchmarking tests against accepted industry standards, to Real Time testing that sees products under continuous test against zero day real world threats 24 hours a day, 7 days a week, 365 days a year.

Click here to see our certification. You can also click here to go directly to West Coast Labs website to view our results and certification.